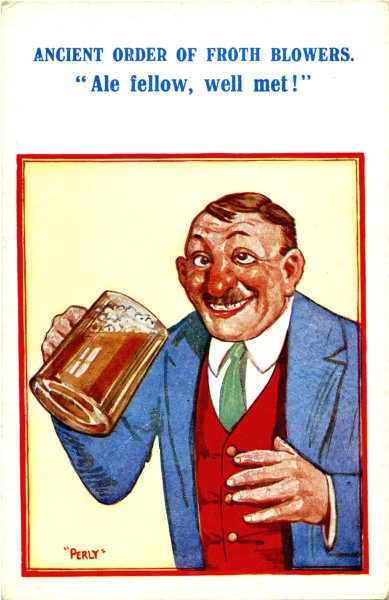 Ye Ancient Order of Froth Blowers will be meeting here on the afternoon of the 17th September 2011 hosting what we hope will be an entertaining and unusual event to raise much needed funds towards Tŷ Gobaith Children's Hospice in Conwy N. Wales.
STOP PRESS: WE/YOU'VE RAISED A STAGGERING £816.68 WHICH BARCLAY'S ARE MATCHING TO BRING OUR FINAL TOTAL TO £1,633.32.  we had to shout that out, a big thank you to our sponsors and all the wonderful people that took part and especially to the Froth Blowers that made the day so special!
Friends of the Ancient Order of Froth Blowers will be travelling from
deepest Birmingham crossing the border to help these children by displaying the various memorabilia of the AOFB and following a brief introductory talk on its history and the link with this area, the Friends will enact a typical VAT meeting with its wacky procedures!
A special Facer's Froth Blowers ale will be brewed for the event with a BBQ and entertainment will be provided by the resident Traditional Jazz Band Mad Ed's Hot 5.  We will also be holding an auction of memorabilia too!
We will be selling a commemorative ticket for £3 which will entitle the holder to a pint of Facer's special 'Froth Blowers' and you'll be able to purchase tickets for the raffle on the day.  Check out facebook for some more information and here for a map to find us.  Facers Brewery and the Blue Bell Inn will jointly be donating £1 a pint towards the Hospice, so please dig deep for the youngsters at Tŷ Gobaith Children's Hospice in Conwy N. Wales.
Very many thanks to Barclay's Bank, Facer's Brewery, Purple Moose Brewery, Conwy Brewery, Theakston's, Courage and The Chocolate Tasting Club for their very generous donations.
A typical VAT meeting...
At the meeting of VATS a procedure was followed and on the order 'Shoot Your Linen Blowers' blowers would extend their arms in front of them to expose both their AOFB cuff-links. Failure to have two links or other misdemeanour's attracted various penalties including fines, buying a round of drinks, having your beer only served in egg cups, having to sing the AOFB anthem to a complete stranger over the telephone (picked at random from the phone book) and in the worst cases wearing your clothes back to front.
Not everyone was welcome and rule No. 11 stated "any communist, murderer, welcher, conscientious objector or other vermin attending any meeting to be instantly ejected and a dose of Veramon forcibly administered.
Slogan - LUBRICATION IN MODERATION
The British human motor requires regular and reasonable lubrication and British Beer is the best for British Machines.
Hops are the fruits of the earth and are Nature's genuine tribute to the human engine. Spirits are not comparable to Beer, but are useful for tanning leather, coats of stomachs, livers and other vitals. Excessive use of spirits will corrode the works and a moderate use of same is only beneficial to ancient or worn-out engines.
Ashtead Potters Order Form